Once a month our women enjoy a 'Rest and Relaxation Lunch' at a local member's house, to have a break from the responsibilities of family and children. Highly popular with relatively unstructured fellowship, these meetings are usually on the first Sunday of the month and are in English and Japanese.
月1回、メンバーの家で女性が家事、育児から離れて'休息とくつろぎのランチ'の時を持ちます。形にこだわらない交わりなので、大変好評で、たいてい第一日曜日に集まり、英語と日本語で行われています。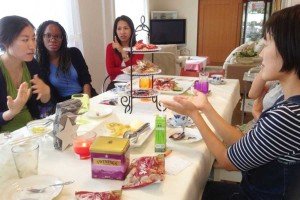 See the Events Page for detailed schedule.